About
About Groupe AFFI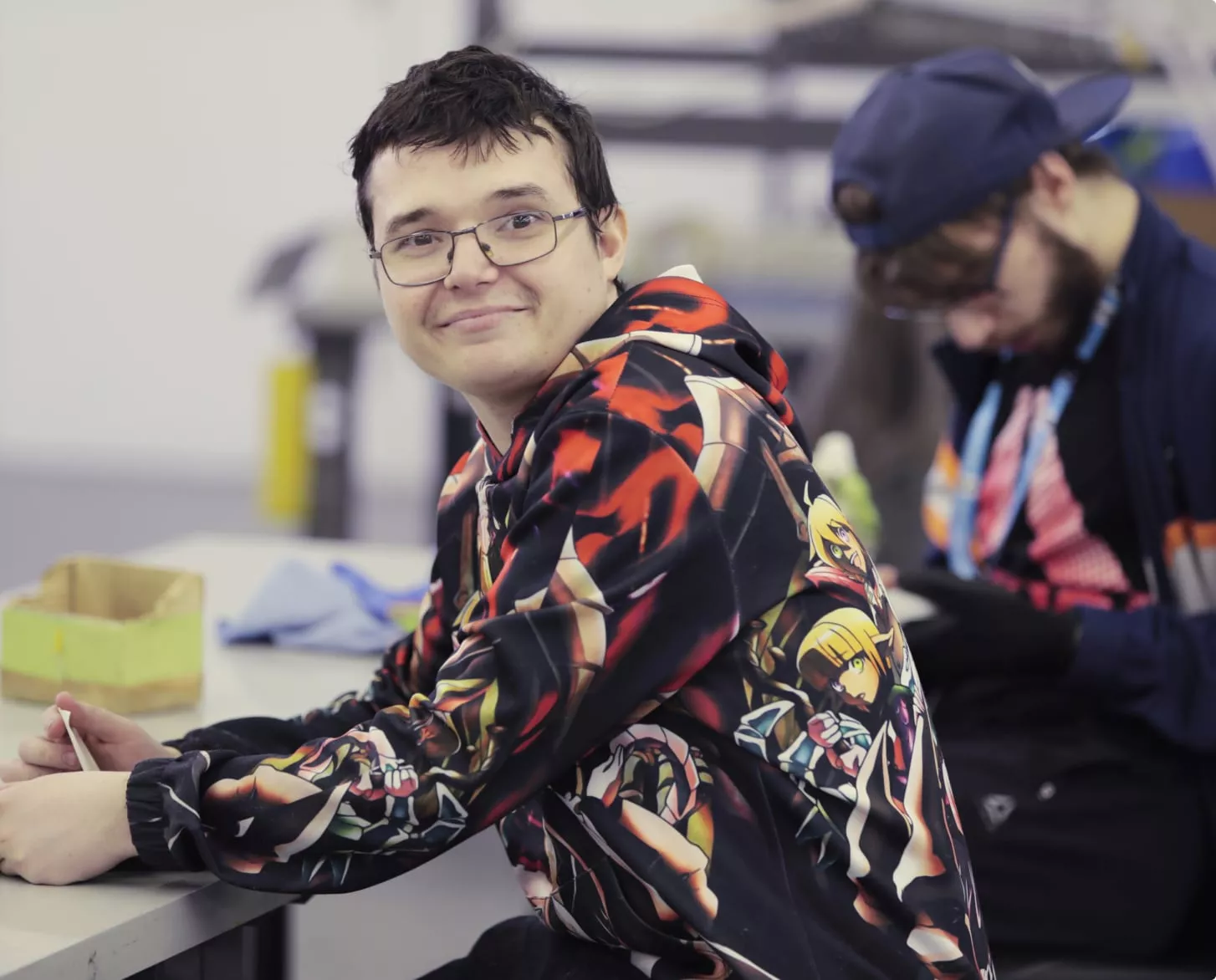 Social entrepreneurship is in our DNA
A social enterprise specializing in industrial subcontracting and logistics outsourcing, Groupe AFFI carries out mandates for clients of all sizes, mainly from the food, pharmaceutical, manufacturing, and consumer goods sectors. Our activities range from packaging to the distribution of various products, to assembly and warehousing. We also refurbish equipment, particularly in the field of telecoms and IT. Our approximately 650 staff members, the vast majority of whom have functional limitations, work out of our six production sites located in the Montreal and Québec City regions. Showing long-term commitment to the community and our customers, we are proud to be a social enterprise recognized for the rigour, reliability, and exceptional dedication of our teams.
50
years of expertises
650
employees
5
locations in Quebec
A story intimately linked to the evolution of the rights of people with functional limitations in Quebec.
Our social commitment has always been a part of who we are.
1964
Decisive meeting between Roger Jauvin and André Chagnon
1969
André Chagnon entrusts a Christmas stocking assembly project, which leads to the creation of the first CAPEQ- (Corporation des ateliers protégés de l'État du Québec) adapted work centre.
1971
L'Atelier la flèche de fer incorporée (AFFI) is born.
1973
Creation of workshops protected by the Ministry of Social Affairs. These are initially referred to as "Adapted Work Centres," then finally "Adapted Enterprises." • Roger Jauvin, Jean-Marie Bouchard, and Roger Pedneault submit a text to the Ministry of Social Affairs: L'handicapé et le travail.
1977
AFFI obtains a major mandate to repair converters.
1978
Creation of the Office des personnes handicapées du Québec (OPHQ). The accompanying legislation allows for the creation of adapted work centres.
1979
AFFI is certified "Adapted Enterprise.
1989
Mandated with the management of Atelier Abaco
1996
Mandated with distribution for Videotron (Losch Boul. in Saint-Hubert) • Obtains ISO 9002 standard certification.
2005
Opens Central Kitchen.
2009
Construction of the new head office in Boucherville.
2012
ObtainsISO 14001 standard certification for the Saint-Hubert plant.
2015
AFFI becomes Groupe AFFI Logistique and the Longueuil plant is open as part of the Zone 52 pilot project. • Obtains Entreprise en santé accreditation.
2016
Merges Atelier Abaco and Groupe AFFI Logistique. • Obtains GMP secondary packager licenses for the Anjou plant.
2017
Obtains Entreprise en santé Élite accreditation.
2018
Acquires the building located at 5100 Armand-Frappier in Saint-Hubert.
Download our book for free
To discover AFFI's journey through short stories on themes associated with its evolution: a success story that reminds us that anything is possible if you put your mind to it.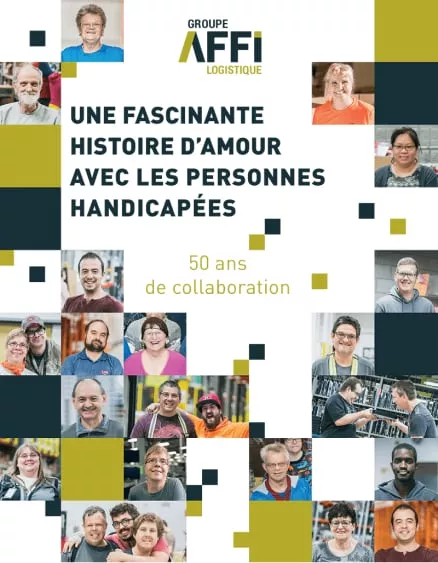 Our vision
As a key player in social entrepreneurship in Quebec, we believe that it is possible to go further by focusing on the potential and strengths specific to each person. From an entrepreneurial perspective, we prove on a daily basis that a successful business model can promote the professional and personal development of our team members, mainly composed of people living with functional limitations.
These values are at the heart of our mission. They guide our actions and interactions, whether within our organization or with our customers and partners.
Human respect
Integrity
Flexibility
Exceeding your limits
Sense of customer and excellence